You've got to love what WordPress is all about. Not only is it a killer content management system but it also lets you create sophisticated websites fast.The best thing about WordPress is it allows us to clone any website there is. Everyday you can see a lot of requests on different forums like: "I want a WordPress Theme like this site …", and which led to the specialization of some WordPress Market Places, such as HotCloneThemes, which are dedicated in creating WordPress Themes inspired by popular websites. Here are the best WordPress clone themes that let you duplicate the design of some of the most popular sites on the Internet. And this collection will keep updated when qualified clone themes are released. Click the title or screenshot to open the details & download page. 
Updated: 2014-03-23
Damnlol Clone WordPress Theme
With this theme,  you can build your own funny pictures/memes  sites in minutes. Driven by damnlol.com, it comes with top features like user content upload, social sharing, Facebook comment, and much more!
Ultrahumor is the world's first wordpress theme with 9gag & damnlol & imgur & vine styles integrated for making a stunning, killing humor sites! That means its not only damnlol clone but also with another 3 clones. It comes with 6 advert places to maximize your earnings, a front-end submission form, facebook comment, etc.
9GAG Clone WordPress Theme
9GAG wordpress theme helps you create your own 9GAG clone website in minutes! Built on wordpress, you can easily configure your website and take advantage of tons of wordpress plugins!
As aforementioned, ultrahumor comes with 4 clones and one is 9GAG clone wordpress theme. There is recent and hot mode on homepage and like/dislike for each post. The difference from original 9gag.com is that ultrahumor uses infinite scroll when scrolling the post details.
Me Gusta! is a user-driven content sharing WordPress theme suitable literally for any type of posts: images, classic blog, videos, combination of all content types, metro style web-site. You can enable the "LOVE" feature so users can Love your posts by clicking the heart icon. When reaching a certain limit of Loves your posts will become HOT.
This could be the best 9gag clone wordpress theme in the market.
Groupon Clone WordPress Theme
With DailyDeal you can create a fully functional deals site using just the awesome WordPress CMS. Along with selling your own deals, the theme will allow others to do so as well. The extensive front-end deal submission form allows pretty much anyone to submit a deal on your site. That might sound scary but don't worry, you can moderate all submissions!
Get Maverick's Coupon Theme and start your very own Group Deals website. Wpoupon is complete with custom post types, menu management, deal timers, featured deals, video option and more! You can purchase licensing for single or multi-domain usage and you will receive upgrades for free! We are working hard to improve the theme with all the features you want.
Deals is a responsive WordPress theme which allows you to store / manage coupons, promo codes and discounts from various websites and stores.
If you're looking to setup a beautiful and fully functional coupons / discounts website to earn affiliate commissions, then Deals is a great choice – It's truly a WordPress App theme that could turn your website traffic into money.
Fiverr Clone WordPress Theme
Pricerr Theme is a Premium WordPress theme that lets you transform your wordpress or blog website into a fixed small price task, micro jobs, chores or job website. It has a lot of new and very useful features, like PayPal, Authorize.net, AlertPay, Google Checkout integration.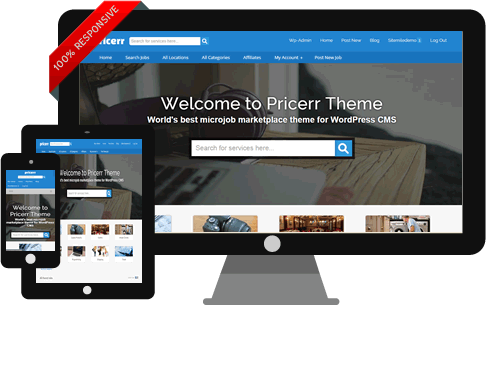 The only wordpress theme that transforms your site into a genuine penny auction website. The perfect turn-key solution for your business. Launch a penny auction website in minutes without much effort. A very suitable solution for novice and professional internet entrepreneurs.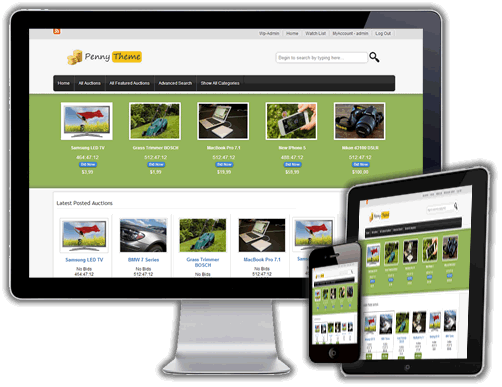 Digg Clone WordPress Theme
A social voting site for WordPress. Nominate allows your site visitors to create accounts, submit articles, and vote on them to creating your own personal version of Digg, using your favorite cms.
Pinterest Clone WordPress Theme
Big fan of Pinterest? You've got to love this new theme - Pinboard. It features an auto stacking layout with infinite scroll as seen on the Pinterest desktop site. If you are unfamilar with the term "infinite scroll", it means that new posts are loaded automatically when you hit to the bottom of the page. The stacking layout works perfectly and responsively on any resolution using a desktop or mobile devices such as iPad, iPhone, Blackberry, and Android.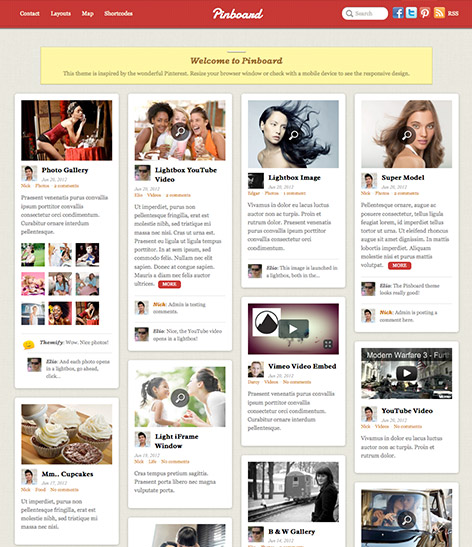 Pinboard has been designed with showcasing content in mind. It has several options for layout and the number of columns on which content is displayed and has a portfolio section if you wish to elegantly show your work.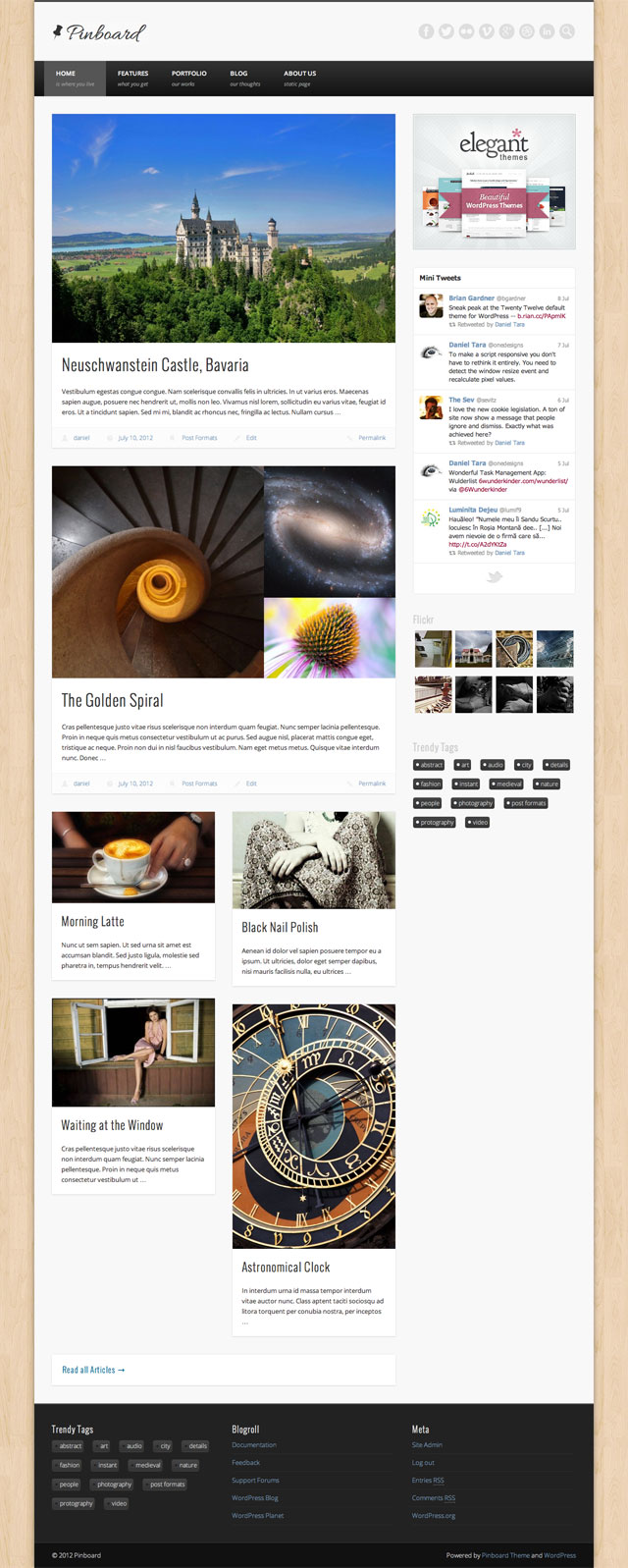 Now you can share your content with style. Featuring a crisp, modern design, TheStyle will give your blog that unique visual impact you have been looking for. With its unique jQuery-enhanced fluid width design, your posts always get displayed in a way that is best suited for your visitor's resolution.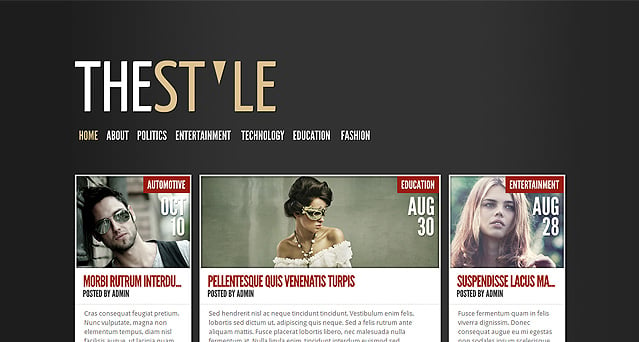 Share your online findings with the world Pinterest-style using the almighty Pintores. Features: RESPONSIVE - Pintores is fully responsive. Serve a better experience for your mobile visitors. POST FORMATS - Music tracks, videos, images, photo galleries, quotes, links and normal posts, all there waiting for you! FAVORITES - Let your users mark their favorite posts with this built-in feature.
Ready to share your online findings with your visitors? With Pinfinity, our tumblr-like theme for WordPress you can do it à la Pinterest. Sweet!
iPin Pro is a Pinterest clone WordPress theme that gives you the same look and feel as well as the social functionality of Pinterest. With iPin Pro you can create your own Pinterest style social network. Unlike most other Pinterest WordPress themes this theme includes social functionality for a real Pinterest clone website. Users can log in via Facebook or Twitter, create boards and upload their pins from the web or from their computer. Users can also like and repin other pins, follow boards and other users, and there is a "Pin It" button for easy pinning up pictures, or videos. Each user has a settings page, user profile and options for email notification for likes, repins, follows comments etc.
Features
Design
Responsive design
Masonry + Infinite Scroll effect like Pinterest.com
Frontpage lightbox
Display popular posts based on likes, repins or comments
Custom login and register page
Sideblog
Twitter Bootstrap framework with Font Awesome
Ads ready: top header, above/below photo in single post, 35frontpage thumbnail slots
Social Functionality
Facebook & Twitter login
User can create boards and upload pins from computer or web
"Pin It" button/bookmarklet for easy pinning of images (support videos from youtube.com and vimeo.com)
User can Like and Repin other pins
User can follow other users and boards
User email notification for likes, repins, follows, comments
Facebook, Twitter, Google+, Pinterest, Embed button for easy sharing
User profile and settings page
Facebook Clone WordPress Theme
Inspired by Facebook's Timeline, Postline is a responsive WordPress theme designed to capture different types of post formats like quotes, videos, images, galleries, and many more, allowing you to tell your story on any resolution, whether desktop or mobile device. In addition, Postline is built with infinite scrolling, meaning posts are loaded automatically when you hit the bottom of the page. For those who would rather not have the Timeline layout, the regular layouts are available such as 4-column, 3-column, 2-column, or list post.